Have you recently become a lawful citizen of the United States through the process of naturalization? One of the key benefits of becoming a U.S. citizen is you can apply for a passport and visit over 180 countries without the need for a specific visa. Wondering how to get a USA passport? We have compiled some valuable information on how to apply, associated costs, validity, and more.
How to Apply for a Passport in the U.S.?
Discussed here are the steps to apply for a passport if you are already living in the U.S.
1. Know your U.S. passport eligibility
To apply for a passport, you must be a lawful U.S. citizen by birth or through naturalization. As an immigrant, you need to hold a valid Green Card before you can apply for a passport.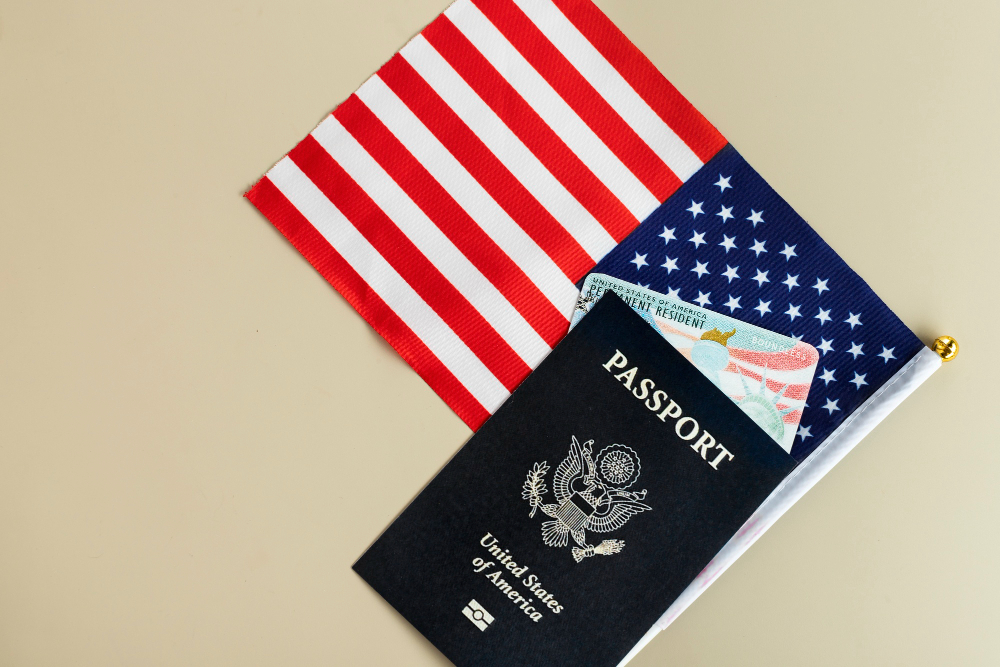 2. Complete Form DS-11
Not sure which passport form should you use? Use the Passport Wizard that will help you find and out the right application form – whether you are applying for the first time or renewing a passport. It is important to follow all instructions in the Form Finder to expedite the process, avoid delays, and eliminate errors.
Are you an immigrant holding a Green Card and wondering how to get a USA passport? You will typically require completing Form DS-11. You can fill up the form online and take a printout of it to present at the passport acceptance facility. You can also download the form, take a printout, and complete the application by hand. But make sure you do not sign the form unless instructed by the passport acceptance agent.
You need to provide your Social Security Number if you already have one. Otherwise, you must submit a declaration stating that the information you provided in the application is true and correct.
3. Submit proof of U.S. citizenship
You must submit an original or certified copy of documents validating your U.S. citizenship. These must include any of the following:
Certificate of citizenship
Certificate of naturalization
If you do not have any of these documents, please see Citizenship Evidence to understand what documents you can submit as secondary evidence of legal permanent residents of the U.S.
4. Provide valid ID proof
You must also provide at least one of the following documents as ID proof in the process of how to get a USA passport:
Current, valid foreign passport
State-issued driver's license
Certificate of naturalization or citizenship
S. Permanent Resident Card or Green Card
Traveler IDs
5. Submit a photo
Your current passport-size photo must also come with the application. Do not staple or attach the photo to the form. To avoid delays in application processing, make sure the photo meets all requirements.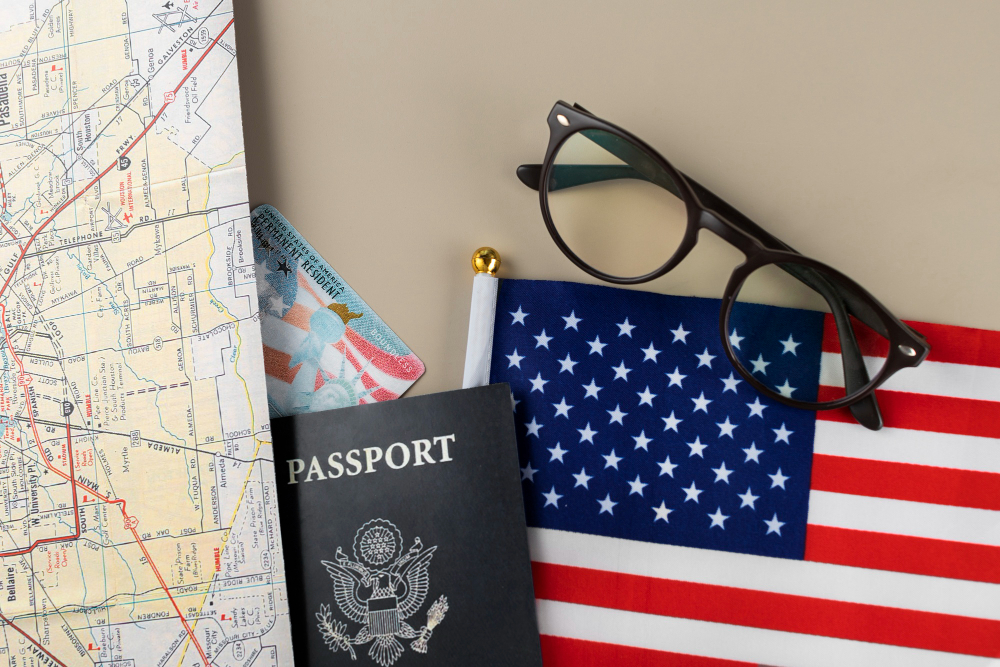 6. Submit your application
Once you complete the application, you must submit it in person at a passport acceptance facility approved by the U.S. State Department. Find a passport acceptance facility near you by clicking here.
How to Apply for a Passport from Outside the U.S.?
If you are applying for a passport from outside the U.S., you will need to visit a U.S. consulate or embassy in your country. They have their own specific requirements and procedures for passport application.
Passport Application Fees
For adults or children considering how to get a USA passport, here is the fee structure for first-time applications:
| | | |
| --- | --- | --- |
| Category | Application Fee | Execution Fee |
| Adult | $130 | $35 |
| Children | $100 | $35 |
How Long does it Take to Process a Passport Application?
Presently, it takes around 7 – 10 weeks to process a standard passport application. However, if you need the passport sooner or have travel plans abroad, you can apply for an expedited passport. In that case, you will need to pay an additional $60 fee. Such passport applications typically take around 4 – 6 weeks to get approved. Calculate the processing time from the moment you submit the application at a passport agency.
What is the Validity of a USA Passport?
The validity of a U.S. passport is 10 years if you were 16 years or older when the passport was issued. Applicants below the age of 16 years will receive a passport with 5 years of validity.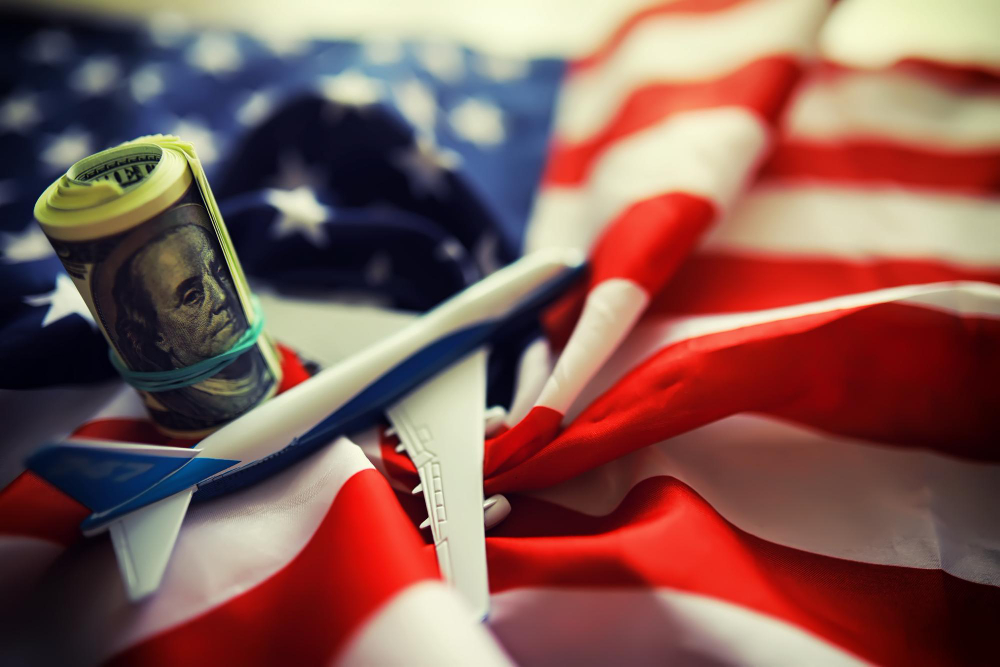 While it is typically hassle-free how to get a USA passport, you may face certain complications with regard to U.S. citizenship. In that case, you may consult expert immigration lawyers who can guide you through the entire process.
Need Support?
Onal Gallant & Partners PC is a law office specializing in Real Estate Law, Intellectual Property, Corporate and Business Law, Immigration Law, and the US Visa Processes. We deliver reliable advice on a large variety of subjects ranging from forming a corporation and buying a house in the US to trademark registration and Green Card applications (e.g., EB3 Visa or DV Lottery). With exceptional knowledge and insight into immigration law, our experienced lawyers at Onal Gallant and Partners are ready to help and respond to all of your inquiries.
www.ogplawfirm.com, Facebook, Instagram, Twitter, Quora, LinkedIn and Medium accounts, Youtube Channel, and our blogs in Turkish and English can be followed to get updated information and news about these topics.
You can also visit our office directly or contact us via e-mail or phone.