In the United States you may be allowed to work regardless of your citizenship or immigration status thanks to your Employment Authorization Document (EAD), so long as you fulfill the legal requirements of obtaining such a card. This document is obtained through filing with the United States Citizenship and Immigration Services (USCIS) Form I-765, Application for Employment Authorization. The EAD is legally necessary to work if you are in the United States if you have not yet acquired a resident status in the U.S. You may be eligible to apply to renew your EAD beyond its expiration date. Note that it may take couple of months for USCIS to process renewal applications. However, you may be able to use your expired EAD along with the receipt notice of a timely filed I-765 renewal application. Timely filing of the EAD renewal application comes with an automatic 180-day extension beyond the expiration of an existing card.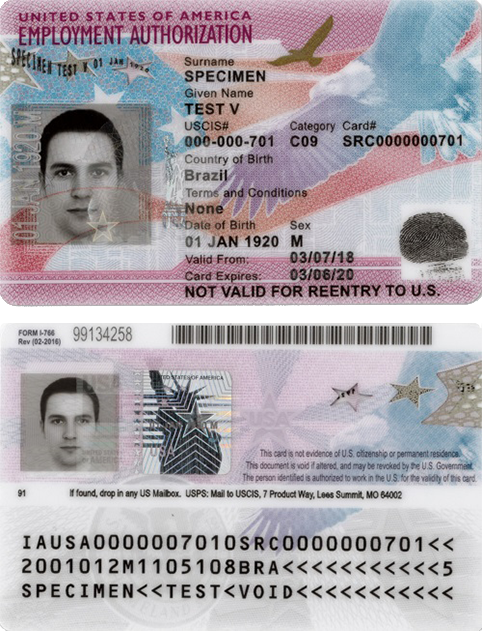 EADs and Green Card Marriages
Applicants who filed Form I-485 to become Permanent Residents wait around 10 – 20 months for their application process. However, during this period the individual may also file the I-765 Application for their EAD card to begin employment, receive a Social Security Number, etc. However, this EAD document is no longer necessary for employment once the individual has obtained their green card, regardless of whether it is a two-year conditional green card or a permanent green card.
Need Support?
Onal Gallant and Partners PC is a law office specializing in Real Estate Law, Intellectual Property, Corporate and Business Law, Immigration Law, and the US Visa Processes. We deliver reliable advice in a large variety of subjects ranging from forming a corporation, and buying a house in the US to trademark registration and Green Card applications (e.g., EB3 Visa or DV Lottery). With exceptional knowledge and insight into immigration law, our experienced lawyers at Onal Gallant and Partners PC are ready to help and respond to all of your inquiries.
You can follow up at www.ogplawfirm.com website, social media accounts, Youtube Channel, and our blogs in Turkish and English to get updated information and news about these topics.
You can also visit our office directly or contact us via e-mail or phone.
The information and opinions provided on this website does not, and is not intended to, constitute legal advice; instead, all information, content, and materials available on this site are for general informational purposes only and may not constitute the most up-to-date legal information.